Amitabh Bachchan shared a throwback picture with today's superstar on social media, can you identify who this star is?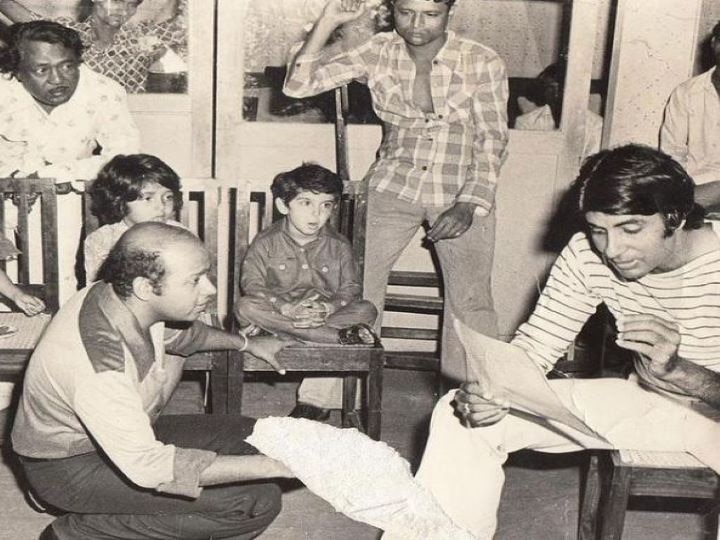 Bollywood emperor Amitabh Bachchan is one of the most active celebrities on social media. He often shares his feelings with his fans through social media. At the same time, they keep sharing their throwback pictures too. On Tuesday, Big B has shared such a throwback picture on his Instagram account that everyone is surprised to see. This picture is becoming quite viral on social media.
Today's superstar is in the throwback picture of Big B
Let us know that in the throwback picture which Amitabh Bachchan has shared on his Instagram, two children are seen sitting. One of them is a Bollywood superstar today. While sharing the picture, Amitabh has also named the name of this superstar.
Picture of Mr. Natwarlal during the practice of singing
Big B has written about this picture that he is rehearsing for a song by Mr. Natwarlal. Big B wrote in the caption, 'The first song I sang … from Mr. Natwarlal .. The music rehearsal of the song with composer Rajesh Roshan and the little-Munna sitting in the palathi is watching Hrithik Roshan. The film Natwarlal is one of Amitabh Bachchan's superhit films. In this film, Rekha, Kader Khan and Amjad Khan were in the lead roles with Amitabh.
Bollywood celebrities are also commenting
This unique picture shared by Amitabh is getting a lot of comments. Many Bollywood celebrities have also commented on this picture. Diya Mirza has written – Sweet to the same, Karan Bohra has written – Vao .. Please tell that Amitabh Bachchan and Hrithik Roshan shared the screen together in Karan Johar's film Kabhi Khushi Kabhi Gham.