Big decision of United Kisan Morcha, two organizations who change their route in tractor parade suspended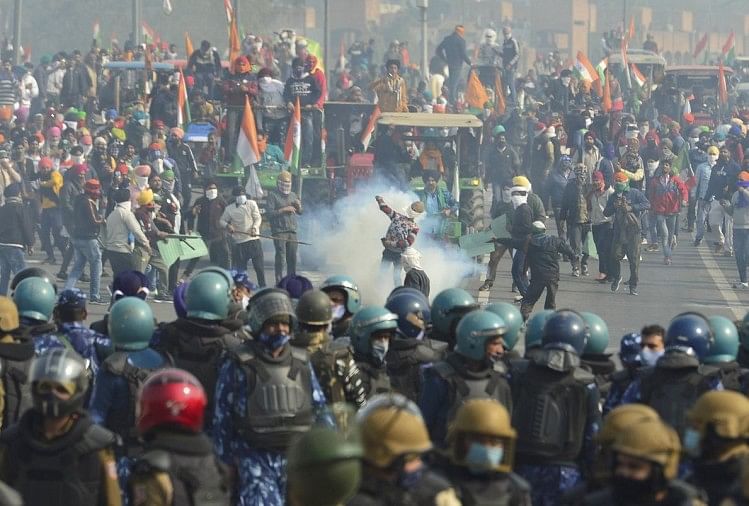 The United Kisan Morcha has taken a big decision after the ruckus in Delhi during the Republic Day tractor parade. The United Kisan Morcha has suspended two route-changing organizations and a committee has also been formed to investigate them.
Only after the report of the committee will it be decided that the officials of both the organizations had wandered to the other route or had changed the route themselves. At the same time, the leaders of the United Kisan Morcha have also made it clear that the spokesperson of Bhakiyu, Rakesh Tikait, changed the strategy of the movement without talking to the Morcha and decided not to block the movement in UP and Uttarakhand.
On the Kundali border, on Saturday evening, instead of 32 farmers' organizations of Punjab, only the officials of 14 organizations met. After this, Ruldu Singh Mansa of Punjab Kisan Union, Darshan Pal of Bhakuyu Krantikal, Raghuveer Singh of Jamahuri Kisan and others talked about the success of Chakka Jam and the next strategy of the movement should be made soon.
Farmer leaders said that Surjit Singh Phool, president of the Bakiu revolutionary Surjit Phool faction and Harpal Singh Sanga of Azad Kisan Committee, have just been suspended. Ruldu Singh Mansa told that the committee is investigating against all the people who went on the other route during the tractor parade, and that is why they have been suspended.
On the decision of BKU spokesperson Rakesh Tikait not to block traffic in UP and Uttarakhand, it has been said that due to the possibility of violence in both those states, this decision has been said. But it is certain that the strategy should have changed after talks with the Kisan Morcha and they feel that this decision was taken in a hurry.