Easy way to pedicure at home, improve feet beauty with home made scrub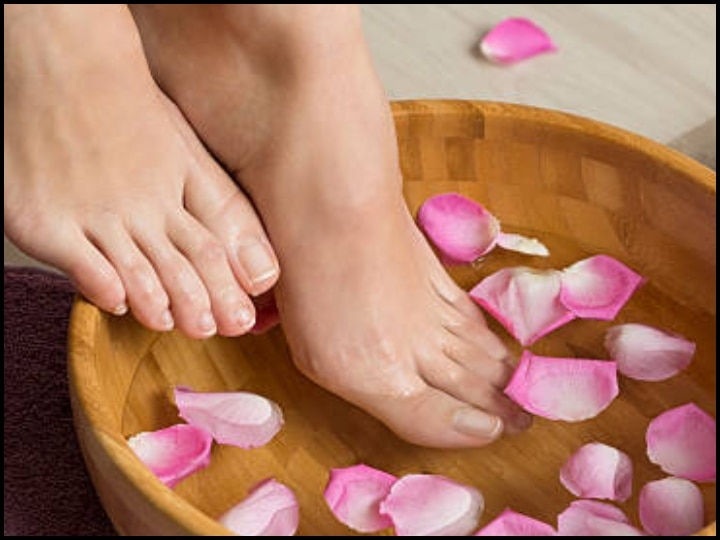 It is said that the beauty of a woman is revealed by her feet. If a lady's legs are clean, then she is beautiful and well behaved. Women also do not want to have any shortage in their foot care, so they do pedicures in regular parlors. But due to Corona epidemic, nowadays women do not want to go to the parlor, so there is a good option to do a pedicure at home too. Pedicure is much easier to do at home than waxing and facials. Just take half an hour for your feet once in 10-15 days so that your feet will look beautiful every day.
Benefits of pedicure
Pedicure enhances the beauty of the feet. Removing dead skin makes the feet shiny. The torn tendons get right and the nails glow. Apart from this, the pedicure gives a good massage to the feet, which keeps the body relaxed. Scrubbing also improves blood circulation.
How to make homemade scrub
Scrub is most important in pedicure. Although there are many types of scrubs available in the market, but this scrub is very easy to make at home and it is also very cheap. A good scrub is prepared with just 2-3 items. So let's tell you 2 easy home scrubs
1- Milk Scrub
Put one tablespoon of sugar and one tablespoon of salt in a cup of lukewarm milk, later add a spoon of baby oil and prepare a paste. If you want, you can scrub it directly on the feet or after adding it in lukewarm water, then scrub the feet after a while.
2- Coffee Scrub
Mix one tablespoon of coffee powder with one tablespoon of salt. Then add half a cup of honey and add 2-3 drops essential oil to the fragrance. You can also put this mixer in lukewarm water or massage it on the soaked feet directly with this scrub.
How to do a pedicure
First of all take lukewarm water in a tub, after that put a homemade scrub in it and keep your feet for 10-15 minutes. In the second method, soak the feet in warm water for 5-10 minutes and then scrubbing. After this, clean the feet thoroughly by rubbing them with a pubic stone or a footbrush. Dead skin is well removed from soaked feet, so clean the area around the heel and nails. After this, after wiping the feet, massage the feet with any normal moisturizer. After this, if you wish, give a good shape to your nails with the help of a filer and then apply a favorite nail polish. With this work of 20-25 minutes, the beauty of your feet will be improved and your feet will become very beautiful and bright.