Eros's Navratri Post, Bhadki Kangana Ranaut said – OTT platforms have become porn hubs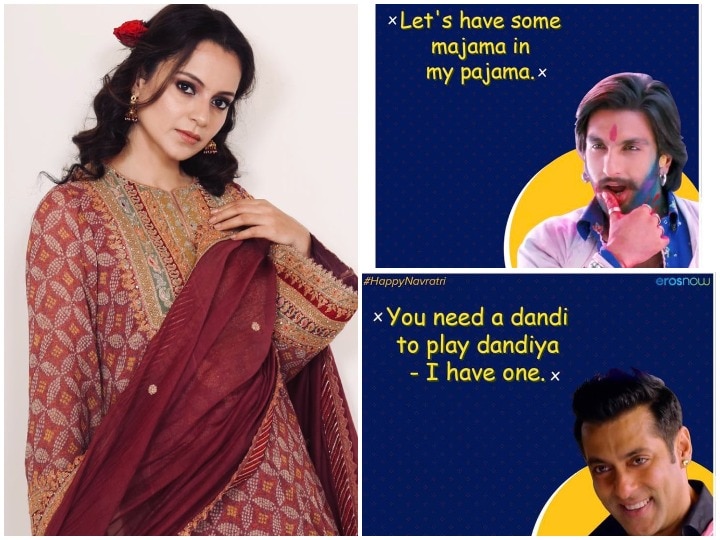 Bollywood actress Kangana Ranaut has now targeted OTT Plataformo and called him a place of vulgarity. His statement came in the wake of a post by Eros Now on the occasion of Navratri, in which some mimes have been prepared with pictures of Ranveer Singh, Salman Khan and Katrina Kaif.
Tagging Eros, Kangana writes from her Twitter account, "We communities must conserve films worth showing in theaters. It has become easier to make content pornographic and display of art for personal viewing, while Compared to them, it has become very difficult to attract viewers on a large scale. All these streaming platforms are nothing but porn hubs. Embarrassing. "
We must preserve cinema as a community viewing theatre experience,its more difficult to enthrall large section of audience than sexualise content for personal viewing, digitisation of art faces this major crisis, all streaming platforms are nothing but a porn hub. SHAME @ErosNow pic.twitter.com/qKHde2R4HI

— Kangana Ranaut (@KanganaTeam) October 22, 2020
In a separate tweet she writes, "And it's not just the streaming platform's fault, you want instant gratification when you watch a content sitting alone, with headphones in your ears. Films need instant gratification for the whole family, children, around – Needs to be seen with the people of the neighborhood. Basically it should be a community experience. "
She further writes, "This increases vigilance in us. When we know that what we are seeing, is being seen by someone else, we try to be what we see ourselves in the eyes of others Want to show. We become very aware of things. It is important to rein in our mind, emotions and our conscience as well. "
Kangna's talk has got a lot of support from the people. Social media users also admitted that these strumming platforms have hurt the culture and sentiments of the people of India. Seeing people united on social media, Eros has deleted this post and also issued an apology on his official Twitter account on Thursday.