People took a dip of faith on Mouni Amavasya, Ignore Corona Guidelines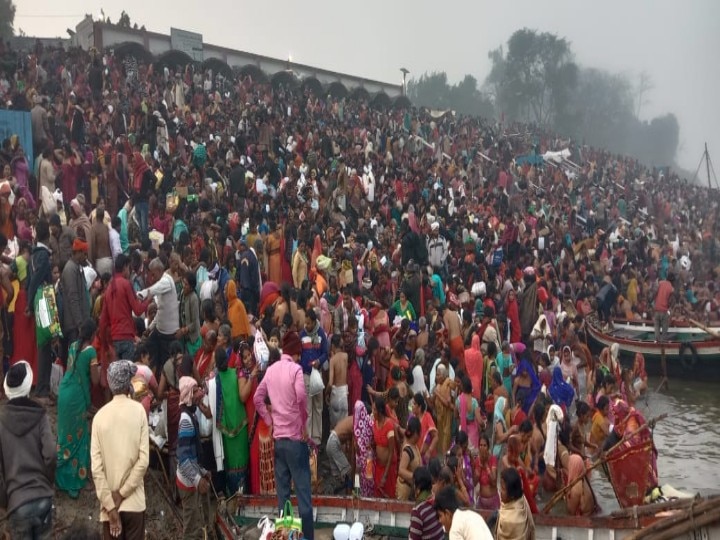 Thousands of devotees took a Ganges bath on the occasion of Mauni Amavasya at Ramrekha Ghat in Buxar district of Bihar on Thursday. On this day, bathing the Ganges has great significance. In such a situation, thousands of people took a dip of faith in Ganga in Buxar called Mini Kashi. However, Corona's guidelines were largely ignored during this time. Neither did social distancing appear in the thousands, nor did anyone see masks on their faces.
Administration too careless
At the same time, despite the prior knowledge of the arrival of a large number of people, no arrangement was seen from the administration either. Police personnel were present somewhere at the ghat. But to control the crowd was not his thing. Significantly, on the occasion of Mauni Amavasya, devotees from Uttar Pradesh, Nepal Bihar and other places come to Buxar.
Today, bathing in the Ganges is of great importance
In this regard, when Lala Baba, the priest of Ramrekha Ghat was talked about, he told that since morning, lakhs of devotees have taken a bath in the Ganges. It is the great significance of Mauni Amavasya that when the devotees leave the house wearing silence, they take bath by wearing silence and perform charity by performing silence.
However, the kind of negligence that has been done at the Ramrekha Ghat in Buxar today can prove to be dangerous. The corona vaccine may have arrived, but the corona is not completely finished yet. The risk of corona infection still remains. In such a situation, vigilance is necessary.