The First Consignment Of 1.5 Lakh Dosages Of Covishield Vaccine Dispatched To Thimphu In Bhutan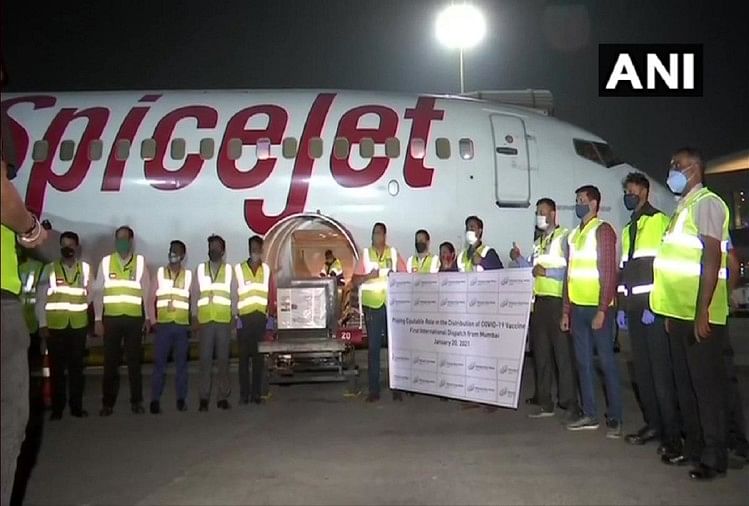 India announced a few days ago that it will give Corona vaccine to its friendly countries as a gift, today India has fulfilled the same promise. Since today, India has started supplying vaccines to Bhutan, Maldives, Bangladesh, Nepal, Myanmar and Seychelles.
First of all, one and a half lakh dosages of Corona Vaccine Kovishield have been sent to Bhutan. This vaccine from Serum Institute departed from Mumbai's Chhatrapati Shivaji Maharaj International Airport to Thimpu Airport in Bhutan this morning. These vaccine doses will reach Bhutan at any time.
Bhutan has become the first country to receive the first consignment of Corona vaccine as a gift from India. Similarly, apart from Bhutan, other neighboring countries will also be provided with vaccines from India. The Ministry of External Affairs informed that there were requests from several neighboring countries for supply of India-made Corona vaccine.
Apart from this, one million corona vaccines will be given by India to Nepal. On Thursday, a consignment of vaccine from India will descend to Nepal's capital Kathmandu. Nepalese Health Minister Hayesh Tripathi gave this information. He said that this is an example of the friendship relationship between India and Nepal. It is named Vaccine Friendship.
The Foreign Ministry stated that the necessary regulatory approval in respect of Sri Lanka, Afghanistan, Mauritius is awaited. The Ministry of External Affairs said that as the vaccination program continues in the country, care will be taken to ensure that there is sufficient stock to meet the domestic requirements while supplying abroad.
The relationship between India and Bhutan is special, in view of this, India ensured the supply of every essential item in the lockdown caused by Corona. India has so far provided essential medicines, medical supplies, paracetamol, hydroxycloquine, PPE kits, N95 masks, X-ray machines and test kits to Bhutan worth over Rs 2.8 crore.