Thousands of people gathered on streets as soon as Israel got the lockdown exemption, protested against PM Netanyahu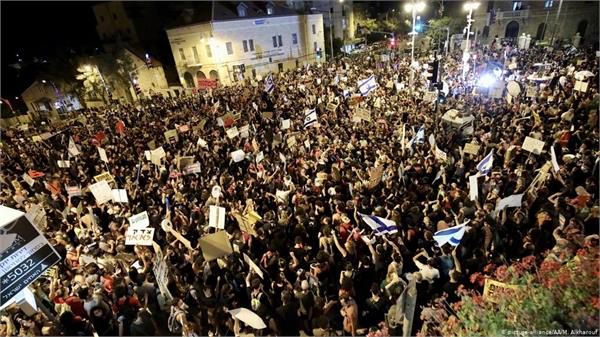 Thousands of people demonstrated outside the official residence of Prime Minister Benjamin Netanyahu on Saturday night, following the withdrawal of emergency sanctions imposed to control the Kovid-19 in Israel, and the weekly demonstrations began again.
Protests were stalled in Israel last month after new restrictions were imposed to control the epidemic. Due to emergency rules, a large number of people were not able to reach Jerusalem for the demonstration and people were allowed to take part in a small number of demonstrations within one kilometer of the house.
The protesters gathered in central Jerusalem and carried placards to Netanyahu's official residence. During this time, he was shouting slogans to quit his post and in support of 'revolution'. The organizers of the demonstration say that around 260,000 people from across the country participated in it. The protesters said that Netanyahu should resign from the post. He said that the Prime Minister is facing allegations of corruption and hence he is not eligible to lead the country during this time.
The protesters also accused Netanyahu of not handling the epidemic properly and causing unemployment to rise. Netanyahu is accused of fraud. His role in taking bribes in betrayal and several scandals is under investigation. However, he continues to deny the allegations and says he is a victim of conspiracies by overzealous police, prosecutors and liberal media.