Two bullet train stations proposed in Gautam Budh Nagar, will cover Delhi to Noida Airport in 20 minutes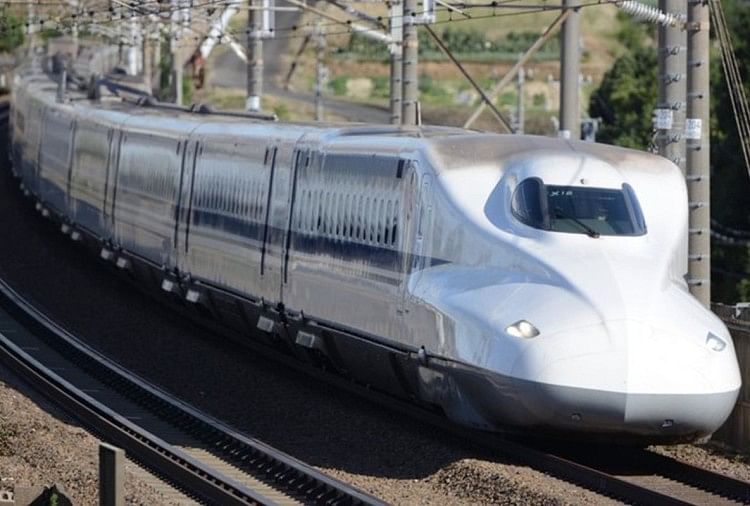 The proposed bullet train between Delhi and Varanasi will benefit Gautam Budh Nagar district the most. There will be two bullet train stations here. The first station is planned to be built near Noida Sector-148 and second near Noida Airport.
National Highspeed Rail Corporation is working on a plan to run a bullet train on an 865 km long route between Delhi to Varanasi. Although the people of many cities of Uttar Pradesh will benefit from this train, but the district will benefit the most. This is the first district where two stations are proposed.
The station will be built near Terminal-One of Noida Airport. This will benefit the airport passengers. Bullet train will travel from Delhi to Varanasi in four hours. After running from Sarai Kale Khan, the first bullet train will stop at Sector-148 of Noida. The National High Speed ​​Rail Corporation has sought a report from Noida International Airport Limited (Niall). The National High Speed ​​Rail Corporation has already put out a tender to prepare the detailed project report of the High Speed ​​Rail Corridor.
Now the station and corridor are being decided. In view of the connectivity of Noida Airport to Delhi, two stations have been proposed in the district. Niall officials said that only after the DPR is ready, the exact situation will be known.
Noida airport from Delhi cannot have better connectivity. Apart from Noida-Greater Noida, Ghaziabad and nearby people will be able to travel by bullet train, while being built near Noida Airport, there will be easy access to Aligarh, Bulandshahr and nearby people along with Jewar. The population here will benefit from the formation of these two stations.
Bullet train proposed station-
Sarai Kale Khan Delhi
Noida Sector-148
Noida Airport
Agra
Etawah
Kannauj
Prayagraj
Lucknow
Varanasi
A look at the project
Length: 865 km
Speed: 320 kmph
Cost: 1.21 lakh crores
Sector-148 of Noida will be the first stop after leaving Delhi and then the train will stop at Noida Airport from here. This distance of about 50 kilometers will be covered in about 20 minutes. The advantage of this is that Delhi passengers traveling by air from the airport will be able to reach here easily.
Currently, there are plans to start air from the airport in 2023-24. For this, agreement has been signed with Zurich International on 7 October. The company has to submit the airport map within two months.