US Secretary of State Pompeo, Defense Minister Espar NSA met Ajit Doval, manner of greeting attracted attention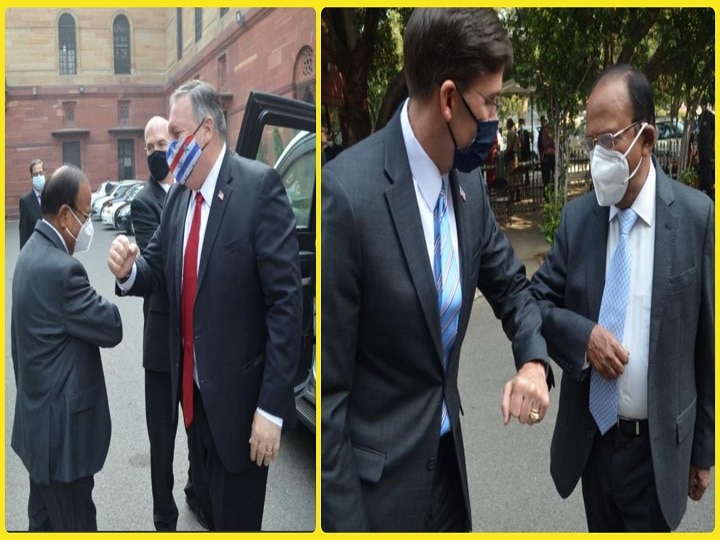 New Delhi: US Secretary of State Mike Pompeo and Defense Minister Mark T Esper on Tuesday held talks with National Security Advisor (NSA) Ajit Doval on important aspects of the strategic relationship between the two countries. Sources said that important issues were discussed in the meeting from a strategic point of view. The meeting between Ajit Doval and US ministers between the Corona period caught everyone's attention. Everyone greeted by hitting elbows with each other.
This meeting took place before the third 'plus two' talks at the ministerial level. Espar and Pompeo arrived here on Monday for important talks to further strengthen the defense and security relations between the US and India. Defense Minister Rajnath Singh and Foreign Minister S Jaishankar held separate meetings with their American counterparts on Monday. Earlier on Tuesday, the two US ministers went to the National Summer Memorial and paid tribute to the soldiers who received Veergati for the country.
India and America will have many agreements during two plus two talks
For the 2 + 2 dialogue between India and America, the Defense Minister and the Foreign Minister of India will meet the Defense Minister and the Foreign Minister of the United States. US Defense Minister Mark Asper and Foreign Minister Mike Pompeo have reached India for this meeting. A formal meeting has already been held between the leaders of the two countries tomorrow.
Today there will be a big agreement on military cooperation during the 2 + 2 dialog. Today India and America are going to make many agreements during two plus two talks. These agreements will strengthen India's military strength. There is going to be an agreement between India and the US on the Basic Exchange and Cooperation Agreement.